If you follow me on Twitter you know I was ranting about going to get some Sushi on last Friday!
I even tweeted and updated my Facebook status asking if anyone wanted to join me for Sushi. Nonetheless, I would have went by myself but being the chatter box that I am; I was up for some company.
Whelp, nobody took me upon my offer until after talking to the Bestie on the phone she agreed to meet me at this Sushi Bar in Vinings called:
Orient Express
I have been there a few times before for Hibachi Dinner but never have I dined on their Sushi side.
I admire how the place is very well decorated…
If you are in the Atlanta Area and you haven't been to this lil spot please be sure to check them out you will not be disappointed! I already wanna go back!
Aaayyyyeee... I was werrrking them chopsticks!
A closer look at my meal: Shrimp & Salmon Sushi
The Bestie working her chopsticks
A closer look at her meal... I can't remember what it was but it was spicy! Yup, I tried hers too.
It was Friday so I wore something relaxing... A Denim Dress w/ Flats!
I always thought Denim Dresses were heavy and HOT! But to my surprise the denim was not all THICK! The dress was actually very cool and comfortable.
Being that I am a lioness: "LEO QUEEN"
When I 1st saw these earrings I immediately feel in love!!!! I purchased these over a month ago from a vendor friend of mine: Envy Ear Candi all of her accessories are unique and handmade.
What I Wore:
Jean Dress: Ross
Sandals: Payless
Earrings: Envy Ear Candi
I'm linking up with Cori over at

It's My Taste

for Trendy Tuesday; although, it's Wednesday... Better Late than Never right?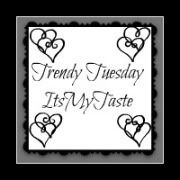 Note to You:
Just over a year ago… The thought of eating Sushi was completely out of the question but thanks to my twitter friend Dani suggested that I give it a try and its be on ever since.
This was a reminder to NEVER judge anything on looks alone.
Have you ever tried something for the 1st time that you thought you wouldn't like but surprisingly it was better than you initially thought it would be?